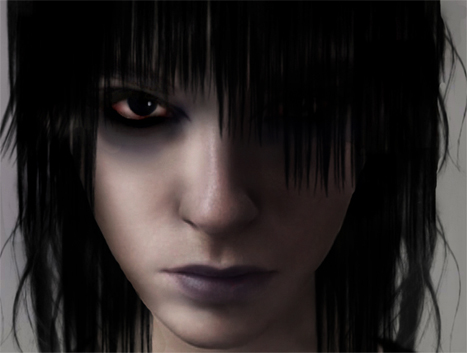 Full name
: Bill Trümper
Nicknames
: (prisoner) 815, 815Bill
Race
: Human
Age:
22
Sex:
Male
Sexuality:
Unknown
Eye Color:
Dark brown
Hair Color:
Black (natural here)
Built:
Skinny.
Tattoos:
A star on his stomach, a freiheit 89 tattoo on his arm and yin and yang on the back of his neck.
Illnesses:
Asthma
Physical Description:
Bill looks like he's lived a hard life and is often described by other people as really scary looking. Even at only 21 his cheeks are sunken, his eyes are hollow and with dark circles. He's been known to use charcoal as make-up. His eyes tend to seem very dark, even black and gets darker the angrier he is.
His hair is long and unkempt and hangs loosely around his face.
Personality:
Bill's personality is hard to grasp. Most people see him as scary and mysterious and the rumors about him are many and different. He's good at hiding what he's really thinking and he doesn't show much emotions, mainly because he doesn't know how. Bill is severely traumatized and this influences everything he does.
He wants to die, but doesn't think he deserves the luxury. He's supposed to suffer, he knows he is, and because of this he has a hard time accepting that Tom is able to bring smiles out of him.
He has a knack of manipulating others and making them do what he wants them to do. He's an expert conman and good at seduction.
Secrets:
Many.
Mental disorders:
Post-Traumatic Stress Disorder
Other mental issues:
He suffers from severe anger management issues accompanied by panic attacks, the latter arise when reminded too much of his past or when deeply angered. Lately he found himself waking in the middle of the night from night terrors; his therapist is treating them through therapy and drugs. Apart from this, he has a mental block hindering him from feeling too much of his own emotions except from anger.
Likes:
Making himself feel unworthy of everything resembling a life
He starting to secretly and unconsciously like Tom
Scaring people (especially Tom),
Anne (but don't tell him you know)
Attention
Intimidating others
Dislikes:
Therapists
People trying to read him
Being sedated
Any mention of his past
The thought of hurting Tom
Cop/investigation shows, though that doesn't keep him from watching them
Blood
How calm he feels after taking his medication
Parents:
Not mentioned by name
Siblings
: ?
Other Relations or Important People:
Tom, a young police officer who took an interest in Bill after hearing about him from his colleagues. Tom is curious and perhaps a little naïve and walks easily and willingly into Bill's cell time after time. It started out as a game, but something is starting to put breaks on Bill's plan to wreck Tom.
Andreas, an officer with a dubious past with Bill. Andreas started a year before Tom and fell into Bill's clutches. The two had something going on, before someone noticed and had Andreas suspended. He came back later and is determined to stop Bill and Tom's deepening relationship.
Anne, Bill's therapist. She's a middle aged woman, with a kind face and voice. She was his therapist earlier before deciding to step off due to age and other personal reasons. However, she saw Bill wasn't doing any good and decided to go back. Bill was secretly glad.
Karina, a young girl who died at age fourteen. She and Bill share a tattoo, and a past.
History/Background Information:
Not much is known about Bill's background.
Bill was imprisoned at age 18 after having spent two years in juvie and a few months in the mental hospital. His past is dark and kept secret, only a selected few knows what happened but only one knows why, and that's Bill. In the time after being sent to prison, Bill was very mentally unstable. He attacked his roommate and shot another officer in the leg, who not long after that, transferred to another station.
Bill has had trouble with his anger from a very young age and had several episodes in school where he would hit or otherwise harm other students. This was never treated. These issues only got worse as he got older and really escalated as the PTSD hit.
(In this RP), Bill escaped from prison after 4 years. He's believed to have run far, far away, but he knew they would think that, so he didn't run far.
Strengths:
His manipulative skills
Weaknesses:
His own past/memories.
About MeName/Alias:
Anette/BrokenMirror
Link to Your Fiction:
#815 @ THF.com
Age:
18
Roleplaying Experience:
Almost every day through 2005 and 2006. Every now and then after that.
Other:
Character profiles make my head explode.
Orange
: I have read and agree to the rules >:]